Trump, procuratore di NY: "Mi hanno licenziato"
Commenti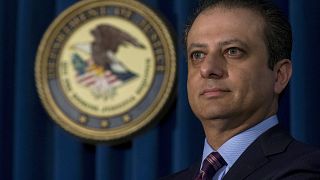 Il presidente degli Usa, Donald Trump, ha chiesto le dimissioni immediate di 46 procuratori dell'era Obama. Tra loro il procuratore di New York che si è rifiutato di eseguire l'ordine di dimettersi.
"Non mi sono dimesso, sono stato licenziato. Essere procuratore degli Usa nel SDNY sarà per sempre il più grande onore della mia vita professionale", ha twittato Bharara.
I did not resign. Moments ago I was fired. Being the US Attorney in SDNY will forever be the greatest honor of my professional life.

— Preet Bharara (@PreetBharara) 11 marzo 2017
Questo quanto aveva dichiarato a novembre:
"Ho già chiarito che avrei certamente considerato di restare in carica. Ho accettato di restare in carica. Ho già parlato il senatore Sessions, che come sapete è il candidato per diventare procuratore generale. Anche lui ha chiesto che io resti. Quindi mi aspetto di continuare a lavorare come procuratore del distretto sud di New York. E' tutto quello che ho da dire, grazie".
Secondo la tradizione, i procuratori mettono il proprio incarico a disposizione del nuovo presidente. Per questo molti di quelli nominati da Obama hanno lasciato l'incarico dopo l'insediamento di Trump, il 20 gennaio scorso. Solo 46 di loro sono rimasti in carica. A Bharara era stato chiesto di restare in carica proprio da Trump. Ma ora sia lui che il suo ministro della Giustizia Sessions hanno cambiato posizione. Resta da capirne il perchè.