Salone dell'Auto di Ginevra: Peugeot 3008 Auto dell'Anno 2017
Commenti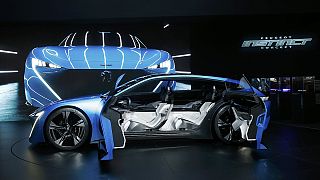 Con 319 voti la Peugeot 3008 è stata proclamata Auto dell'Anno 2017. Seconda l'Alfa Romeo Giulia con soli 23 punti di distacco.
#Peugeot3008 is the "Car Of The Year 2017" #COTY2017#CarOfTheYear#GimsSwisspic.twitter.com/lsshWge3pf

—

GIMS

Swiss (@GimsSwiss) 6 marzo 2017
#LT#GimsSwiss#SUVPeugeot3008:worldwide commercial success, historic "One-Two-Three" at #Dakar2017 and over 20 awards! #CarOfTheYearpic.twitter.com/z2rijGgnVo

— Peugeot (@Peugeot) March 7, 2017
L'annuncio è arrivato a margine del Salone dell'Auto di Ginevra. Per PSA la seconda buona notizia dopo quella dell'acquisizione di Opel-Vauxhall, come ha tenuto a precisare l'amministratore delegato di Peugeot: "Lo scorso anno – spiega Jean-Philippe Imparato – abbiamo accolto la vittoria di Astra, perché avevano fatto una grande auto e sono lieto di vedere che oggi continuiamo questa avventura insieme".
Per gli analisti la cessione di Opel è stata un buon affare per General Motors, forse un po' meno per PSA che dovrà provare a risanare il marchio. Quel che è certo è che l'acquisizione eserciterà una pressione importante su Volkswagen, leader del mercato europeo.
"Nel passato Opel e PSA – sostiene l'amministratore delegato di Volkswagen Matthias Mueller – sono stati i nostri ben accetti e rispettati competitor e lo saranno anche in futuro. Quindi non vediamo l'ora di vedere come cambierà la concorrenza. Certo, noi abbiamo i nostri compiti da fare e li faremo in una maniera molto ostinata. Per questo siamo molto positivi riguardo al futuro".
La casa automobilistica tedesca sta investendo miliardi di euro nei veicoli elettrici, nella guida automatica e in tutti quei servizi legati alla mobilità. Volkswagen, che sta tagliando i costi, deve ancora riprendersi dallo scandalo delle emissioni dei diesel. In Svizzera presenta Sedric, la concept car completamente autonoma.
#VWGroup brings the future to the present #GimsSwisshttps://t.co/PjdrY29j13pic.twitter.com/sJxrNGIoBQ

— Volkswagen Group (@vwgroup_en) March 6, 2017