Volker Schlöndorff presenta a Berlino il suo "Return to Montauk"
Commenti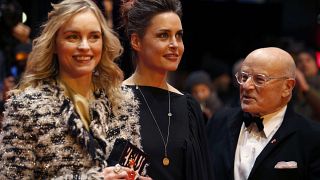 Un viaggio mentale, ancora prima che fisico. Una storia d'amore o meglio il suo ricordo. L'impossibilità di ricreare quello che già è stato.
Al festival del cinema di Berlino Volker Schlöndorff ha presentato il suo "Return to Montauk". Stellan Skarsgård nel ruolo di Max Zorn, il protagonista, scrittore venuto a New York per la promozione del suo ultimo romanzo; la giovane moglie Clara (interpretata da Susanne Wolff) e l'amore di un tempo, Rebecca (Nina Hoss).
"Beh, c'è molto del mio background personale nel film, ci sono molti elementi della mia vita" racconta il regista. "Come dire, quasi niente è inventato ma tutti questi elementi sono ripresi, rimescolati, ricomposti in modo tale che se, dovessi dire se si tratta di finzione o verità, beh, dovrei dire finzione" dice Schlöndorff.
La 67esima Berlinale si è aperta lo scorso 9 febbraio; 24 i film presenti nella selezione ufficiale, 18 quelli in corsa per vincere l'Orso d'Oro che verrà assegnato il prossimo 18 febbraio.
Festival di Berlino: è il giorno di Volker Schlöndorff con «Return to Montauk» https://t.co/YbOKWQDm8lpic.twitter.com/kB9C0P5GVR

— IlSole24ORE (@sole24ore) 15 febbraio 2017