Stati Uniti: Senato conferma la nomina di DeVos a ministra dell'Istruzione
Commenti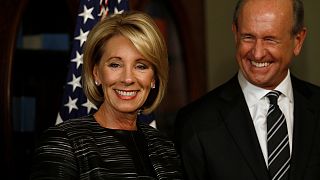 Negli Stati Uniti il Senato ha confermato come segretaria all'Istruzione la nomina della repubblicana di 59 anni Betsy DeVos. Decisivo, come previsto, è stato il voto del vicepresidente Mike Pence.
L'aula si era divisa a metà con 50 voti a favore e 50 contro. A spostare l'ago della bilancia è stato il vicepresidente Pence che con la sua preferenza ha garantito la nomina della miliardaria paladina delle scuole private. Per la prima volta nella storia americana è servito il voto di un vicepresidente per confermare un ministro.
I appreciate the Senate's diligence & am honored to serve as usedgov</a> Secretary. Let&#39;s improve options & outcomes for all US students.</p>&mdash; Betsy DeVos (BetsyDeVos) 7 février 2017
Contro la conferma della nomina di Betsy DeVos hanno votato in blocco democratici. A fare muro con l'opposizione anche due senatrici repubblicane, Susan Collins del Maine e Lisa Murkowski dell'Alaska.
NoOnDeVos Trends As Betsy DeVos Faces Senate Confirmation Vote:Wikimedia C https://t.co/plQJhdArrppic.twitter.com/VJYrzTkDax

— iLead Politic (@iLeadPolitic) 7 février 2017
La controversa scelta del presidente Donald Trump è stata contestata soprattutto dai sindacati degli insegnanti e ha spinto migliaia di persone in piazza a Washington contro Betsy DeVos.