Usa-Corea del Nord: Trump, non avranno armi nucleari in grado di raggiungerci
Commenti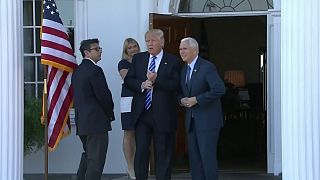 Il presidente-eletto degli Stati Uniti Donald Trump risponde a Kim Jong Un, il leader nord-coreano che ha annunciato la finalizzazione dei preparativi per il lancio di un missile balistico intercontinentale.
Su Twitter, Trump ha affermato che Pyongyang non avrà un'arma nucleare in grado di raggiungere gli Stati Uniti. Il miliardario ha attaccato anche la Cina: "Ha ricavato una grande quantità di denaro e di ricchezza dagli Stati Uniti in un rapporto commerciale a senso unico, ma non sarà di aiuto nei rapporti con la Corea del Nord".
North Korea just stated that it is in the final stages of developing a nuclear weapon capable of reaching parts of the U.S. It won't happen!

— Donald J. Trump (@realDonaldTrump) 2 janvier 2017
China has been taking out massive amounts of money & wealth from the U.S. in totally one-sided trade, but won't help with North Korea. Nice!

— Donald J. Trump (@realDonaldTrump) 2 janvier 2017
Pechino ha replicato difendendo il proprio impegno per la denuclearizzazione della penisola coreana. Trump, che il 20 gennaio si insedierà alla Casa Bianca, non ha ancora chiarito la sua politica nei confronti del regime di Kim Jong Un, ma in campagna elettorale aveva affermato di non aver problemi a parlare con il leader nord-coreano.
I due Paesi non hanno avviato colloqui diretti, per i quali Washington pone come pre-condizione la rinuncia di Pyongyang al nucleare. Sia gli Stati Uniti sia l'Onu hanno imposto nuove sanzioni dopo i test missilistici dell'ultimo anno.