Usa, dibattito presidenziale: la reazione dei mercati
Commenti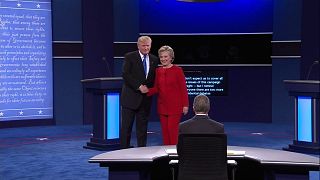 Molti i temi sul tappeto nel primo dibattito televisivo fra i due candidati alla Casa Bianca. Quello che ha provocato il maggior interesse è stato l'economia in particolare il Nafta, ovvero il trattato di libero scambio commerciale stipulato tra Stati Uniti, Canada e Messico.
.realDonaldTrump</a> calling out <a href="https://twitter.com/HillaryClinton">HillaryClinton's support for NAFTA = most searched moment during tonight's debate. #Debates2016pic.twitter.com/ooclo3Nozb

— Official Team Trump (@TeamTrump) September 27, 2016
L'impressione è che il tycoon stanotte, abbia parlato solo ai suoi elettori, per esempio alle tute blu del Michigan, Missouri e Ohio, tre Stati in bilico e citati più volte.
Sono molti i posti di lavoro che partono direzione Messico. Fra gli imputati la Ford, che ha appena investito 2,5 miliardi di dollari oltreconfine e annunciato che nei prossimi tre anni tutta la produzione delle piccole auto sarà delocalizzata.
La Ford ha però voluto difendersi dalle critiche, ricordando di aver investito oltre dodici miliardi di dollari in patria e assunto operai negli Stati Uniti senza licenziare.
Ford has more hourly employees and produces more vehicles in the U.S. than any other automaker. pic.twitter.com/k15cqknsvX

— Ford Motor Company (@Ford) September 27, 2016
I mercati hanno subito reagito al dibattito. Il peso messicano ha recuperato dopo un confronto in cui molti hanno visto la Clinton prevalere.
Before and after the #PresidentialDebate: searches by US state for HillaryClinton</a> & <a href="https://twitter.com/realDonaldTrump">realDonaldTrumphttps://t.co/c3Eqtco5Jepic.twitter.com/Ekt9E3d13B

— GoogleTrends (@GoogleTrends) September 27, 2016
Reazioni anche dalle piazze finanziarie europee.
Questo il commento di un analista a Francoforte. "Trump ha un'idea diversa dell'economia globale e del libero mercato che porterà scompiglio nel resto del mondo. I mercati saranno più calmi se vince la Clinton. Ma anche se a imporsi dovesse essere Trump, ci sarebbero di certo degli scossoni e delle incertezze, ma alla fine il mercato dovrebbe riprendersi. Perché nemmeno Donald Trump può completamente ignorare l'ordine mondiale".