Terrore in Francia: Daesh rivendica omicidio di sacerdote
Commenti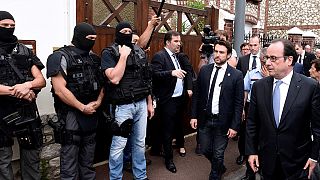 Il sedicente stato islamico avrebbe rinvendicato in internet l'attacco a una chiesa nel nordovest della Francia, a Saint-Etienne di Rouvray, dove questa mattina un anziano sacerdote è stato sgozzato e un'altra persona versa in condizioni gravissime. Due uomini sono penetrati nel luogo di culto durante la messa e hanno preso in ostaggio le persone all'interno. Una suora è riuscita a fuggire e a dare l'allarme.
La rivendicazione di Daesh
#ISIS 'Amaq corrected the date of the Arabic report for #Normandy#France church attack & released report in English pic.twitter.com/yyJ60ZN26T

—

SITE

Intel Group (@siteintelgroup) July 26, 2016
La polizia è arrivata rapidamente e ha circondato la zona. I due terroristi sono stati uccisi. Il presidente François Hollande è giunto nella cittadina e ha rilasciato una dichiarazione: "Siamo di fronte a una prova, l'ennesima, che mostra come la minaccia sia elevata. Ci troviamo di fronte a un gruppo, Daesh, che ci ha dichiarato guerra. Dobbiamo condurre questa guerra nel rispetto della legge. Perché siamo una democrazia".
Da quello che trapela, uno dei due assalitori aveva scontato un anno di prigione ed era stato liberato il 22 marzo scorso. Nel 2015 aveva cercato di arruolarsi nella jihad in Siria, ma, bloccato alla frontiera turca, era stato rispedito in Francia dov'era stato subito arrestato. All'uscita di prigione era stato posto in libertà vigilata con braccialetto elettronico. Poteva uscire di casa ogni giorno dalle 8,30 alle 12,30