Copa America: Cile in semifinale, Messico umiliato 7-0
Commenti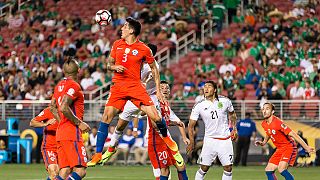 Il Cile demolisce il Messico per 7-0 e si qualifica per le semifinali di Copa America, dove affronterà la Colombia. Tonfo clamoroso quello dei centroamericani, umiliati nonostante la spinta dei 60mila tifosi del Levi's Stadium.I campioni in carica passano al 16' con Edson Puch, lesto a raccogliere una respinta corta di Ochoa sul tiro di Diaz. Al 44', il raddoppio della Roja con Edu Vargas, che con un sinistro a incrociare, finalizza una grande azione di Alexis Sanchez.
Congrats to LaRoja</a> for advancing to the Semifinals! Catch their next match on June 22 at 8pm ET. <a href="https://twitter.com/hashtag/Copa100?src=hash">#Copa100</a> <a href="https://t.co/sFFLdpnDF2">pic.twitter.com/sFFLdpnDF2</a></p>&mdash; Copa América 2016 (CA2016) 19 giugno 2016
Proprio l'attaccante dell'Arsenal entra nel tabellino dei marcatori al 49', quando segna a porta vuota, sfruttando un assist di Vidal. L'ex juventino, ammonito e sotto diffida, salterà pero' la semifinale.
¡Inolvidable! #LaRoja pasa a semifinales con un partido perfecto https://t.co/e3ChUcbmF5pic.twitter.com/pl5rrgC9sF

— Selección Chilena (@LaRoja) 19 giugno 2016
Lo show del Cile prosegue senza sosta: Vargas va a segno ancora in tre occasioni, per il suo poker personale, mentre è Puch, all'87' a mettere fine all'agonia messicana con il definitivo 7-0. La squadra di Osorio esce con le ossa rotte da questa Copa, la Roja sogna invece uno storico bis. Anche se contro la Colombia di James, Cuadrado e Bacca, sarà tutta un'altra storia.