Impresa USA in Copa America: l'undici di Klinsmann in semifinale
Commenti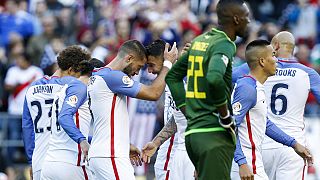 È tutta nella gioia in cui esplode il Centurylink Stadium di Seattle, la misura dell'impresa riuscita dagli Stati Uniti: trascinato da un veterano come Clint Dempsey, l'undici di Klinsmann bissa il traguardo del 1995, centrando la seconda semifinale di Copa America della sua storia.
Gyasi Zardes, off the feed from Clint Dempsey, gives the #USMNT some breathing room. #USAvECU#MyCopaColorshttps://t.co/SxKajJCeJS

— FOX Soccer (@FOXSoccer) 17 giugno 2016
Solidi, razionali e ben schierati in campo, i padroni di casa aprono le danze al 22° con un'imprendibile incornata di Dempsey.
Arranca invece l'Ecuador che lascia spazio agli avversari, al raddoppio al ventesimo della ripresa, con Zardes ad appoggiare a porta vuota dal vertice dell'area piccola.
This ref has been busy tonight. #USAvECU#Copa100pic.twitter.com/Hgaxx1pmkX

— Copa América 2016 (@CA2016) 17 giugno 2016
Con le squadre in 10 contro 10 per le espulsioni di Antonio Valencia e Jones, un Ecuador sprecone accorcia poi a un quarto d'ora dalla fine ma spreca un paio di clamorose occasioni per agguantare il pareggio. Ad attendere ora gli Stati Uniti in semifinale, la vincitrice di Argentina-Venezuela.