UNHCR: "Sono più di 800 i migranti morti nel Mediterraneo in una settimana"
Commenti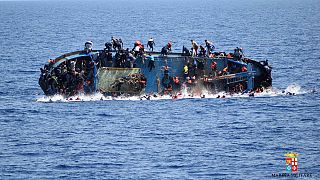 Almeno 880 i migranti morti soltanto la scorsa settimana, nel tentativo di attraversare il Mediterraneo. L'agenzia ONU per i rifugiati rivede al rialzo le stime degli ultimi giorni, dopo aver raccolto le testimonianze di diversi sopravvissuti.
Several shipwrecks last week on #Mediterranean appear to have claimed at lst 880 lives, according to info received from survivors in #Italy

— UNHCRNews (@RefugeesMedia) 31 maggio 2016
Cifre, alla luce delle quali la stessa UNHCR bolla il 2016 come anno particolarmente nero: già oltre 2500 le vittime dei naufragi finora registrate, contro le 1850 contate allo stesso periodo dello scorso anno. Dei 204.000 migranti approdati in Europa via mare da gennaio, secondo le stesse fonti, tre quarti sono approdati in Grecia prima che entrasse in vigore l'accordo fra UE e Turchia.
#Mediterranean 2016 proving to be particularly deadly. Some 2,510 lives have been lost so far compared to 1,855 in the same period in 2015

— Carlotta Sami (@CarlottaSami) 31 maggio 2016
16 presunti scafisti fermati in Sicilia
Sedici i presunti scafisti di cui Polizia e Guardia di Finanza di Catania informano intanto di aver provveduto al fermo. L'ipotesi è che abbiano organizzato il trasporto di circa 150 migranti, soccorsi il 26 maggio a bordo di un gommone in difficoltà.
Sbarco di oltre 800 migranti, 16 presunti scafisti fermati a #Cataniahttps://t.co/BCdGZDTaB0pic.twitter.com/L517Wk4UR7

— Gds.it (@GDS_it) 31 maggio 2016
A guidare l'imbarcazione, in base alle testimonianze, sarebbe stato un cittadino del Gambia. Gli stessi sopravvissuti hanno raccontato di aver pagato cifre spazianti fra l'equivalente di 500 e 1000 euro per effettuare la traversata dalla Libia. Qui avrebbero trascorso fra i 30 e i 45 giorni in una sorta di "centro di raccolta", prima di essere imbarcati.