Incendi in Canada: la città di Fort McMurray ordina l'evacuazione totale
Commenti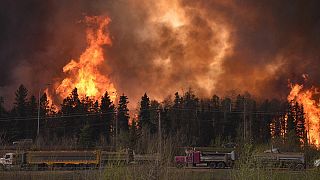 Un'intera città dell'Alberta, in Canada, costretta a scappare dalle fiamme. Presa nella morsa del fuoco, Fort McMurray ha lanciato un appello ad aviazione ed esercito canadese per trarre in salvo i suoi 100.000 abitanti.
Impotenti di fronte agli incendi che domenica avevano brevemente tagliato le vie di fuga verso il sud, le autorità locali hanno emesso un ordine di evacuazione totale. Questo l'annuncio su Twitter del Premier dell'Alberta Rachel Notley.
All of Fort McMurray is now under a mandatory evacuation - head north to Noralta. #ymmfirehttps://t.co/D6qjTxZJJf

— Rachel Notley (@RachelNotley) 4 maggio 2016
Decine di migliaia in fuga. In tilt le arterie che conducono fuori della città
"È un disastro – racconta commossa una residente -. Non ci hanno dato neanche il modo di prendere le nostre cose. Tutto è andato perduto. Ci rimane solo quello che abbiamo addosso".
In circa 8.000 sono stati sistemati in centri d'accoglienza nelle vicinanze. L'esodo di decine di migliaia di persone verso il nord, in direzione opposta alle fiamme, sta congestionando le arterie stradale e mandando in tilt la circolazione. Su Twitter gli aggiornamenti delle autorità locali, che raccomandano di evitare ogni spostamento non urgente, per facilitare lo smaltimento degli ingorghi.
ALL non-essential travel northbound to #ymm on #Hwy63 & #Hwy881 Now Restricted. #ymmfire#ABRoads

— 511 Alberta (@511Alberta) 4 maggio 2016
Appello agli albergatori: accogliete la popolazione in fuga
La situazione critica ha indotto l'amministrazione locale a lanciare anche un appello alle strutture alberghiere nelle vicinanze, con cui le si invita ad aprire le loro porte alla popolazione in fuga.
We are asking hotels with space to donate beds to first responders. If you have rooms in or close to Fort McMurray, call 780-762-3681 ASAP.

— RMWB (@RMWoodBuffalo) 4 maggio 2016
"È stato il giorno peggiore della mia carriera – racconta uno dei pompieri intervenuti -. Come tutti, qui, sono completamente distrutto. Tutta la nostra comunità è distrutta. Il fatto è poi che non finirà qui. Ci vorrà del tempo prima che si possa tornare ad alzare la testa".
La paura del petrolio. Ma l'impianto nelle vicinanze è al momento al sicuro
Suncor is responding to the fire situation in the RMWB. For the most up to date information please follow @RMWoodBuffalo

— Suncor Energy Inc. (@suncorenergy) 3 maggio 2016
La società che gestisce un impianto petrolifero a venticinque chilometri di distanza dalla città esclude al momento ogni rischio. Venti secchi previsti per le prossime ore rischiano tuttavia di alimentare ulteriormente gli incendi e complicare le operazioni dei vigili del fuoco.