Cinema: Iñárritu vince il premio DGA per il secondo anno consecutivo
Commenti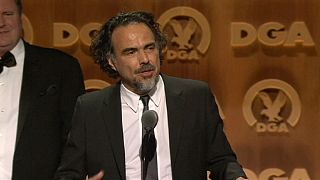 Il messicano Alejandro Iñárritu è il primo a vincere per due anni consecutivi il premio per il miglior regista della Directors Guild of America. Il riconoscimento, che gli è stato attribuito stavolta per The Revenant e che gli era stato assegnato nel 2015 per "Birdman", prelude spesso alla vittoria agli Oscar per la migliore regia.
Ritirando il premio, Iñárritu si è lasciato andare alla commozione.
"Questo abbraccio che mi state dando oggi va a tutto un Paese, a tutta la comunità latino-americana di questa nazione. Mette in luce all'improvviso tutte queste persone che vivono qui e che contribuiscono molto a questo Paese. E il vostro abbraccio mi fa sentire orgoglioso e felice."
"The Revenant", grande favorito agli Oscar anche grazie all'interpretazione di Leonardo Di Caprio, aveva già ricevuto tre Golden Globe, per la migliore regia, il miglior film drammatico e il miglior attore drammatico.