Migliaia in fuga dalla battaglia di Aleppo. Scintille fra Mosca e Ankara
Commenti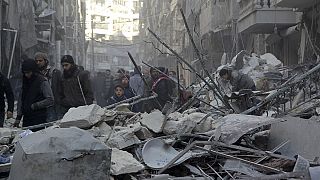 Dopo aver affondato i negoziati di pace, l'intensificata offensiva contro Aleppo spinge ondate di siriani a fuggire il Paese ed esaspera la guerra di propaganda fra Ankara e Mosca. Oltre 60.000 le persone in rotta verso la Turchia secondo il primo Ministro Davutoglu, che accusa la Russia di aver provocato l'esodo con i suoi raid.
Russia and Turkey trade accusations over Syria https://t.co/jSn0iALeZlpic.twitter.com/fa3GeJpO8Y

— Today's Zaman (@todayszamancom) 5 Febbraio 2016
Mosca ammette dal canto suo di aver attaccato 900 postazioni ribelli soltanto da lunedì, ma denuncia movimenti turchi che lascerebbero presagire un'incursione militare in Siria. Accuse che Ankara mette sul conto di una strategia di diversione volta a mascherare quelli che chiama "crimini russi" e un assedio che sostiene sia volto ad "affamare Aleppo".
Russian Defense Ministry says suspects Turkey of preparing incursion in Syriahttps://t.co/uukPLIdDKSpic.twitter.com/SW4nfcxNdL

— Today's Zaman (@todayszamancom) 4 Febbraio 2016
Il presidente turco Erdogan replica a Mosca, bollando come "ridicole" le insinuazioni di un intervento turco in Siria.
Erdogan calls Russian claim of Syria invasion plan 'laughable' https://t.co/GHIqrS2SgFpic.twitter.com/QbEnmyUNXK

— FRANCE 24 (@FRANCE24) 5 Febbraio 2016
Dopo la rapida avanzata degli ultimi giorni, l'esercito regolare siriano fa sapere che ultimerà "a breve" l'accerchiamento della città.
Devastazione e macerie che a nord-est di Aleppo hanno trasformato Sarrin in città fantasma sembrano intanto confermare le perdite sul terreno, secondo gli Stati Uniti incassate dall'ISIL.
Number of #ISIS fighters in #Syria and #Iraq declined by thousands – US intelligence report https://t.co/L1Nl16ZZPEpic.twitter.com/lkynSExjr2

— RT (@RT_com) 5 Febbraio 2016
Mentre i residenti testimoniano alle telecamere le violenze subite dai jihadisti, la Casa Bianca stima che dal 2014 il sedicente Stato Islamico abbia incassato terribili perdite in Siria e in Iraq. Da circa 30.000, i suoi organici al fronte si sarebbero ridotti di un quinto, ma non è escluso che in parte siano stati dirottati altrove.