Donne al voto per la prima volta in Arabia Saudita
Commenti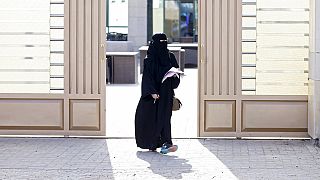 In seggi rigorosamente separati dagli uomini, queste donne sono le prime a votare nella storia dell'Arabia Saudita. Un'elezione amministrativa che vede anche 865 candidate. Contro di loro – per aggiudicarsi due terzi dei 284 seggi – un esercito di 5.300 candidati e un ulteriore svantaggio: il divieto di tenere comizi e iniziative elettorali in cui fossero presenti uomini.
Although it's largely a symbolic election, it's great to see Saudi women with big smiles voting for 1st time ever. pic.twitter.com/nNMUZHcjK1

— Julie Lenarz (@MsJulieLenarz) December 12, 2015
Una battaglia impari anche numericamente: a fronte del milione e 350 mila uomini registrati al voto, si contano 130.000 donne, meno del 10% del totale.
"Sono così orgogliosa di questo miglioramento in Arabia Saudita e spero davvero che le donne siano elette – dice Najd Mohamad, una giovane elettrice – perché questa è davvero una grande opportunità per le donne e penso possano fare fare la differenza in questo Paese".
"Sono qui per esercitare il mio diritto di scegliere un rappresentante che può parlare a nome mio, del mio quartiere o del mio consiglio – aggunge un'atra elettrice, Thuraya al Ghamdi – Naturalmente ho letto la lista delle donne candidate e, senza conoscerle personalmente, ho votato per la candidata che sento sarà in grado di parlare a nome nostro e di realizzare le nostre richieste".
Le resistenze nella comunità saudita, però, sono ancora molte. Uno studio recentemente pubblicato dal Centro studi Esbar rivela che il 72,5% dei sauditi non approva la candidatura delle donne, mentre solo l'8,7% le sostiene.
Meet Saudi Arabia's first ever female political candidate. https://t.co/7kBmJLQ64g#9Newspic.twitter.com/z2nB1pGVhh

— Nine News LA (@9NewsLA) November 30, 2015