Parigi aggira il divieto e marcia per il clima con quattro tonnellate di scarpe
Commenti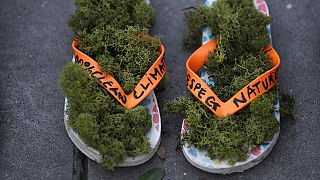 A Parigi quattro tonnellate di scarpe ricoprono Place de la République, simbolo della voglia di marciare per il clima che non si ferma davanti ai divieti imposti per motivi di sicurezza dopo gli attentati del 13 novembre.
È il modo trovato dalla Ong Avaaz per far sentire la voce di Parigi in vista del summit Onu sul clima che si apre lunedì.
That's a lot of shoes!! Banned from marching Parisians sent in thousands of pairs to take part in the #ClimateMarchpic.twitter.com/jSmTbMrejo

— Jamie Henn (@Agent350) 29 Novembre 2015
"È anche un modo per dare speranza. All'interno delle scarpe sono stati lasciati messaggi alle prossime generazioni. Ci sono scarpe in cui crescono le piante. Anche Papa Francesco e il segretario generale delle Nazioni Unite, Ban Ki-moon ne hanno inviato un paio. Ci sono dunque elementi di luce importanti in questa istallazione piuttosto triste", ha spiegato Emma Ruby Sachs, vice direttore di Avaaz.
Les chaussures du Pape… Pour le climat ! Avaaz</a> <a href="https://t.co/spiAgWkvmd">pic.twitter.com/spiAgWkvmd</a></p>&mdash; PlanB Climat -29 nov (MarcheClimat) 29 Novembre 2015
In due settimane di colloqui a Parigi si tenterà di raggiungere un nuovo accordo globale sui gas serra per combattere i cambiamenti climatici. I delegati di 193 Paesi e gli oltre 150 leader e capi di Stato discuteranno del futuro del pianeta. Intanto nel mondo si marcia per dire che non c'è tempo da perdere, che non esiste un "pianeta B".
Una marcia che si fa anche grazie alle scarpe di Parigi.