Gli Eagles of death metal parlano della strage al Bataclan di Parigi (per la prima volta)
Commenti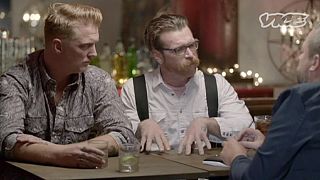 Erano sul palco a suonare il 13 novembre al Bataclan.
«Molte persone si sono nascoste nel nostro camerino. Gli attentatori sono riusciti ad entrare e ad uccidere tutti quanti, tranne un ragazzo che si era nascosto sotto al mio giubbotto di pelle» Jesse Hughes degli Eagles of Death Metal, la band che stava suonando al Bataclan di Parigi la sera degli attentati
La rock band californiana "Eagles of Death Metal":
18 Novembre 2015
si esprime per la prima volta. I musicisti sono tornati sani e salvi a casa, 4 loro collaboratori, invece, sono deceduti, insieme ad altre 85 persone.
Il racconto del cantante del gruppo, Jesse Hughes
Diverse persone si sono rifugiate nel nostro camerino, ma il commando è riuscito a entrare e ha ucciso tutti, tranne un bambino che si era nascosto sotto alla mia giacca di pelle
Tutti quelli che erano lì erano terrorizzati e cercavano di farsi passare per morti. Una delle ragioni per cui ci sono state così tante vittime è perché molti hanno cercato di proteggere i loro amici facendo scudo con il proprio corpo.
Per ora ogni attività dal vivo del gruppo Eagles of death metal è sospesa, ma diversi sopravvissuti alla strage hanno scritto messaggi pubblici alla rock band auspicando che torni al più presto a "suonare a Parigi":
Pour Eagles of Death Metal à #Paris le 14-Juillet 2016 sous la Tour Eiffel cc Paris</a> <a href="https://twitter.com/Anne_Hidalgo">Anne_HidalgogouvernementFR</a> <a href="https://twitter.com/EODMofficial">EODMofficial

— Meriadeck (@Meriadeck) 18 Novembre 2015
proprio per dimostrare che il terrorismo non vince e non ferma la vita.