Rugby World Cup: non basta un Galles eroico, Sudafrica in semifinale. Gli All Blacks annientano la Francia
Commenti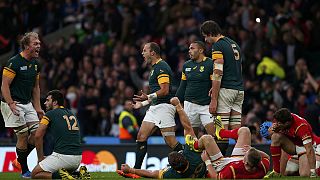 Il Sudafrica vola in semifinale nella Coppa del Mondo di rugby. Nel match che ha aperto la seconda fase del torneo, gli Springboks hanno piegato per 23-19 un eroico Galles.
PICTURETHEMOMENTduane_vermeulen</a>&#39;s reverse offload that set up <a href="https://twitter.com/hashtag/RSA?src=hash">#RSA</a>&#39;s winning try at Twickenham <a href="https://twitter.com/hashtag/RWC2015?src=hash">#RWC2015</a> <a href="https://twitter.com/hashtag/RSAvWAL?src=hash">#RSAvWAL</a> <a href="http://t.co/YanRP5IBX0">pic.twitter.com/YanRP5IBX0</a></p>&mdash; Rugby World Cup (rugbyworldcup) 17 Ottobre 2015
A Twickenham i Dragoni menano le danze già nella prima frazione, quando vanno in meta con Davies, liberato da Biggar dopo uno splendido sfondamento centrale.
COMEBACKKINGS#RSA are only the 9th team to win a #RWC knockout match having trailed at half-time #RSAvWALpic.twitter.com/vO6bvwLyjS

— Rugby World Cup (@rugbyworldcup) 17 Ottobre 2015
Gli Springboks si affidano al sapiente piede di Pollard per tenersi in scia, ma è un drop di Biggar allo scadere del primo tempo a far impazzire di gioia i tifosi gallesi.
VICTORY! This is what it means to be the first side into the #RWC2015 semi-finals. Congratulations to #RSA
https://t.co/7BUjwSOaEP

— Rugby World Cup (@rugbyworldcup) 17 Ottobre 2015
Nella ripresa, il match si fa piu' fisico e tattico. A rompere l'equilibrio della gara, a cinque minuti dalla fine, è la meta di Fourie du Preez, liberato con uno splendido passaggio no look da Duane Vermeulen: roba da Magic Johnson.
Full time – AllBlacks</a> 62 vs <a href="https://twitter.com/FFRugby">FFRugby 13 – record breaking win for the All Blacks. #RWC2015#TeamAllBlacks#NZLvFRApic.twitter.com/uj3ux5HXb4

— All Blacks (@AllBlacks) 17 Ottobre 2015
Nel secondo quarto di finale, gli All Blacks annientano la Francia, battendola con un clamoroso 62-13. Pratica archiviata già dopo un tempo dai campioni del mondo, che alla fine vanno in meta ben nove volte. Mattatore del match Julian Savea, autore di tre mete, di cui una clamorosa alla fine della prima frazione. La Nuova Zelanda affronterà sabato prossimo a Twickenham il Sudafrica per un posto in finale.