Mercato: niente Real, De Gea rinnova con lo United fino al 2019
Commenti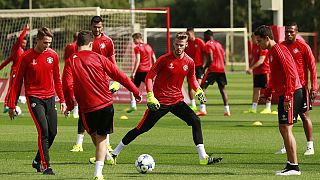 Una delle telenovelas che ha infiammato il mercato estivo termina con il finale piu' imprevisto: David De Gea ha rinnovato con il Manchester United fino al 2019, con opzione per un'ulteriore stagione. A darne la notizia è stato l'account Twitter del club inglese.
David De Gea has signed a new four-year contract at #mufc with an option to extend for a further year. pic.twitter.com/Z3JuQOaNEi

— Manchester United (@ManUtd) 11 Settembre 2015
De Gea era stato ad un passo dal Real Madrid: il trasferimento del portiere della Roja era saltato negli ultimi minuti di mercato per il mancato arrivo della documentazione necessaria per l'operazione.
Me siento orgulloso de anunciaros que seguiré junto a vosotros y el ManUtd</a> GRACIAS por vuestro apoyo incondicional! <a href="http://t.co/GffNeFNnEK">pic.twitter.com/GffNeFNnEK</a></p>&mdash; David De Gea (D_DeGea) 11 Settembre 2015
Una beffa per il Madrid, che puntava De Gea, in scadenza contrattuale a giugno 2016. Lo spagnolo, lasciato in panchina in questo inizio di stagione dal tecnico Van Gaal, dovrebbe tornare regolarmente fra i pali già questo sabato, quando ad Old Trafford arriveranno gli arci rivali del Liverpool.