Migranti asfissiati nel camion: "L'Europa ha le mani sporche di sangue"
Commenti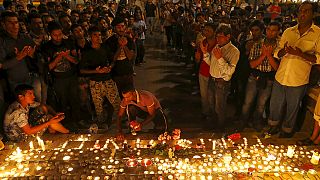 La stessa Budapest da cui era probabilmente partito si raccoglie ora commossa e sdegnata per ricordare le vittime del "camion della morte": 71 migranti fra cui una piccola di neanche due anni, il cui sangue macchia mani e coscienza dell'Europa, secondo i cartelli dei partecipanti all'evento organizzato in una delle stazioni della capitale ungherese.
"#Europe your hand is covered with blood" vigil in #budapest 4 those refugees&migrants who perished in cooler truck pic.twitter.com/GSJGswIRnA

— Arwa Damon (@arwaCNN) 28 Agosto 2015
"E' orribile – dice uno di loro -. Non ho parole. I responsabili sono talmente tanti che sarebbe troppo lungo elencarli tutti. Questa tragedia ci apre però gli occhi sul fatto che i migranti, ormai, non muoiono solo nel Mediterraneo, ma anche anche sulla rotta dei Balcani".
Children, including baby girl, among 71 migrants found dead in #Austria truck http://t.co/OyL32Tesjd#migrantcrisispic.twitter.com/8gzXqYbJNy

— Thomson Reuters Fdn (@TR_Foundation) 28 Agosto 2015
Tra i cadaveri in decomposizione all'interno del camion sono stati rinvenuti un documento siriano e diversi cellulari, che non hanno tuttavia ancora permesso di confermare la nazionalità delle vittime.
Just drove past truck on A4 in Austria with 50 dead refugees inside. Terrible smell of death as we passed. pic.twitter.com/a2AiDnsy5V

— Lindsey Hilsum (@lindseyhilsum) 27 Agosto 2015
Lo stato di decomposizione dei corpi suggerisce che la morte risalga a due giorni prima del ritrovamento del mezzo.
La polizia austriaca e quella ungherese hanno annunciato l'arresto del presunto guidatore e di altre persone.
Su numero e nazionalità di queste ultime le informazioni però divergono. La polizia austriaca parla di un bulgaro-libanese, che ritiene essere il conducente, un ungherese e un bulgaro. Quella ungherese sostiene invece che siano stati arrestati un cittadino afghano e due bulgari.
Il camion era stato rinvenuto giovedì da una pattuglia sull'autostrada austriaca A4, in prossimità del confine con l'Ungheria. Secondo la stessa polizia austriaca, il mezzo sarebbe partito da Budapest nelle prime ore del giorno precedente, per poi varcare il confine austriaco poche ore prima del suo rinvenimento, avvenuto tra le 5 e le 6 del mattino.