Rugby Championship: All Blacks intravedono il titolo
Commenti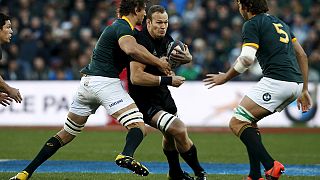 La Nuova Zelanda sconfigge 27-20 il Sudafrica, espugnando l'Ellis Park di Johannesburg e consolidando il primato in graduatoria del Rugby Championship.
Il Sudafrica, privo degli infortunati Matfield e Coetzee, fa perno sul capitano Burger e sul rientro di Brüssow: al 20′ è sul 10 a 3, con gli ospitipoco propositivi; ciononostante, si va al riposo sul 10 a 10.
On Thursday 3 September the All Blacks will be visiting their teammates in the eight most fanatical communities in New…

Posted by All Blacks on Lunedì 20 luglio 2015
In avvio di ripresa, ancora perfetta parità: 17-17; il Sudafrica spinge ma sbaglia troppo sicchè la Nuova Zelanda, dopo aver trascorso 10 minuti in inferiorità numerica senza subire punti, si scaraventa all'attacco, portandosi avanti al 73′ con una meta a firma di McCaw.
La gara si chiude poi grazie a Sapoaga, tuttavia la punizione è eccessiva per gli Springboks.
A questo punto, una sconfitta dell'Australia nel match contro l'Argentina, in programma stanotte, avvicinerebbe sensibilmente gli All Blacks al titolo, che si assegnerà nella sfida diretta in Australia il prossimo 8 agosto.