UAE: auto "Fast and Furious" in mostra
Commenti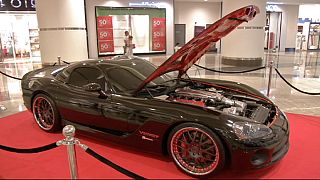 Le automobili del film "Fast and Furious" esposte per una settimana, nel Sahara Centre dell'emirato di Sharjah.
ll film – uno dei migliori al botteghino americano – in parte è stato girato ad Abu Dhabi. Saif Alamoudi ha messo a disposizione per le riprese alcune delle sue auto piú preziose: una Lamborghini Aventador del valore di 500mila euro, una Dodge Viper di 175mila 000 euro e una Mercedes C63 AMG del valore di 110mila euro.
Saif Alamoudi, Public Relation Manager e proprietario delle auto, PP-Performance: "Lo staff di Fast and Furious 7 è venuto ad Abu Dhabi e ha visionato le auto, il regista è convinto al 70% che effettuarà qui le riprese. Da parte nostra c'è massima disponibilità (come Performer Company) con alloggio e benzina offerti, a patto appunto che le scene siano girate negli Emirati."
Le tre auto usate da Vin Diesel, Paul Walker e Michelle Rodriguez sono rimaste esposte anche sabato, un giorno in piú rispetto al previsto. Saif Alamoudi ci ha raccontato di aver speso oltre 500mila euro per mettere a punto le macchine e di aver messo a disposizione della produzione altre 27 auto, inclusa una Ferrari.
Gli Emirati Arabi Uniti vorrebbero entrare in modo piú massiccio nel mercato della produzione cinematografica e per questo il governo di Abu Dhabi offre a tale scopo luoghi unici e massimo supporto.
Le produzioni internazionali ospitate negli ultimi due anni ad Abu Dhabi hanno permesso la costruzione di un centro dedicato e creato notevoli opportunità per i talenti locali.
Rita Del Prete, euronews Sharjah, Emirati Arabi Uniti: "Il proprietario delle auto ha speso ua somma notevole per modificarle e adattarle alle esigenze del film. Si dice pronto peró a riproporle per un nuovo episodio."