Ciclismo: Dowsett vola, suo il nuovo record dell'ora
Commenti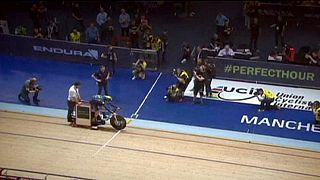 Alex Dowsett ha stabilito il nuovo record dell'ora. A Manchester il 26enne ciclista britannico della Movistar ha percorso 52 chilometri e 937 metri, battendo di 446 metri il precedente primato di Rohan Dennis.
That was something else. There was a much bigger reason behind today's attempt that everyone who's been involved has believed in. Thank you.

— Alex Dowsett (@alexdowsett) 2 Maggio 2015
Dowsett è partito piano, gestendo le energie nella prima metà di gara, per poi rimontare nella seconda. Una strategia pianificata, come ammesso dal ciclista dopo la sua performance. "Ho rispettato la tabella, sapevo che da metà prova in poi avrei avuto da recuperare molto, era tutto previsto – ha detto Dowsett -. Non posso dire che me l'aspettavo, ma abbiamo fatto tutto ciò che andava fatto, preparando molto bene il record".
Il nuovo primato potrebbe però avere vita breve. Il 7 giugno è già in programma un nuovo assalto al record. A provarci sarà Sir Bradley Wiggins, che a Londrà correrà in un velodromo olimpico già tutto esaurito per l'evento.