Siria, Idlib conquistata dai ribelli. Ma non c'entra l'Isil
Commenti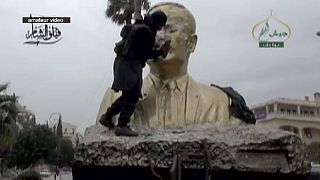 La città siriana di Idlib è in mano alla coalizione ribelle "Armata Fattah". Un video postato su youtube mostra l'accanimento dei combattenti sulla statua di Hafed al-Assad, padre dell'attuale presidente Bashar.
La coalizione include al-Nusra, vicina ad al Qaeda, e numerosi altri gruppi che si oppongono al regime di Damasco: Jund al-Aqsa, Jaish al-Sunna, Liwa al-Haqq, Ajnad al-Sham e Faynad al-Sham.
#Syria: celebrations in Binnish after the end of the regime in #Idlib city https://t.co/etPI0K1Htxpic.twitter.com/HXmlRCwHNy

— Thomas van Linge (@arabthomness) 28 Marzo 2015
A Idlib si trova circa un milione di persone, tra residenti e profughi provenienti da altre regioni dove si combatte.
Si trova nelle vicinanze della strategica autostrada che collega Damasco ad Aleppo e alla provincia di Latakia, sulla costa, roccaforte di Bashar al-Assad.
È a soli 25 chilometri, inoltre, dal confine con la Turchia. È il secondo capoluogo di provincia abbandonato dalle forze lealiste dopo Raqqa, dove invece a governare è l'Isil, organizzazione rivale dell' Armata Fattah.
I media fedeli al regime affermano che le forze lealiste non hanno abbandonato la zona, ma si sono schierate a sud della città per organizzare una nuova offensiva volta a riconquistarla. E sostengono che sono stati già uccisi centinaia di ribelli.