Blitz della polizia azera a Radio Liberty. Bavaglio alla voce "contro" della Guerra Fredda
Commenti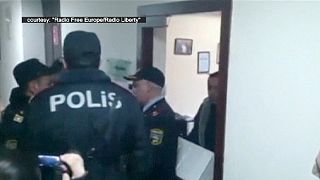 La polizia azera ha fatto irruzione nei locali di Radio Free Europe, Radio Liberty e chiuso la storica emittente, attiva dai tempi della Guerra Fredda, grazie a fondi statunitensi. Facendo eco a motivazioni in passato già usate da Mosca, le autorità hanno parlato di applicazione delle leggi che vietano il finanziamento dalle ONG dall'estero.
All'indomani del raid delle forze dell'ordine, l'emittente denuncia su Twitter una "persecuzione" dei giornalisti.
A day after an office raid, the harassment of RFE/RL journalists continues in Azerbaijan. http://t.co/W1rzoZxYUm

— RFE/RL (@RFERL) 27 Dicembre 2014
Inquietudine anche da Washington, dove a parlare è tuttavia un alto funzionario del Dipartimento di Stato americano, che ha voluto mantenere l'anonimato.
State Dept. official says U.S. 'concerned' by raid on RFE/RL's Baku bureau http://t.co/Ev35PkOaTlpic.twitter.com/6OuFrqe6le

— RFE/RL (@RFERL) 26 Dicembre 2014
La radio era considerata un baluardo di informazione indipendente, in un panorama mediatico sempre più strettamente controllato.