Le nomination del peggio di Hollywood, Sandler domina di nuovo
Commenti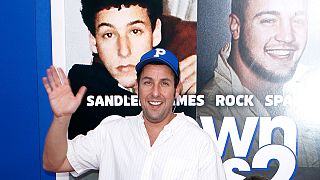 Come da tradizione il giorno che precede le nomination agli Oscar è quello dei film più scadenti. I Razzie Awards – in anticipo di 24 ore rispetto alla prestigiosa statuetta hollywoodiana anche per quanto riguarda la consegna – dal 1981 premiano il peggio del cinema.
Per quanto riguarda la stagione cinematografica 2013, ha fatto incetta di nomination "Un weekend da bamboccioni 2" (Grown Ups 2), film interpretato, sceneggiato e prodotto da Adam Sandler, un habitué del riconoscimento. Sandler è stato peggior attore 2013 con "Indovina perché ti odio" (That's My Boy) e anche nel 2012 con "Jack and Jill", il film più "premiato" in assoluto con ben 10 Razzie.
"Un weekend da bamboccioni 2" è in lizza per otto riconoscimenti, tra cui peggior film e peggiore sceneggiatura. Per la pellicola più scadente concorrono anche "The Lone Ranger", film d'avventura di Gore Verbinski, con Johnny Depp, la commedia "A Madea Christmas" di Tyler Perry, il fantascientifico "After Earth" di M. Night Shyamala, con Jaden Smith e Will Smith, e la commedia a episodi "Movie 43".
Tra i candidati a peggiore attore ci sono: Adrien Brody (InAPPropriate Comedy), Robert De Niro (The Big Wedding / The Family / Il grande match), Johnny Depp (The Lone Ranger). Tra le interpreti femminili: Jennifer Hudson (Winnie Mandela), Jennifer Lopez (Parker), Michelle Pfeiffer (The Family).
I nomi dei "vincitori" saranno svelati il prossimo primo marzo.