G20: su immigrazione l'UE chiede solidarietà e dice no al protezionismo americano
Commenti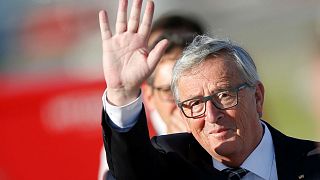 L'Europa sfida il G20 sui temi del protezionismo e dell'immigrazione clandestina. All'apertura del vertice di Amburgo, venerdì i presidenti delle istituzioni europee hanno usato parole forti per spronare i leader mondiali a prendere misure efficaci per contrastare il traffico di migranti.
"Propongo a tutti i leader del G20 di perseguire sanzioni mirate contro i trafficanti", ha affermato da Donald Tusk. "Con questo intendo il congelamento dei beni e i divieti di viaggio. Se non lo faremo, sarà una prova dell'ipocrisia di alcuni dei membri del G20".
I appeal to all G20 leaders to pursue UN sanctions against smugglers. This is a minimum to be done at global level. https://t.co/mkRhKL4fJQpic.twitter.com/ypDwd0OK9C

— Donald Tusk (@eucopresident) 7 luglio 2017
Dall'immigrazione alla sicurezza, l'Unione europea punta ad ottenere l'unità dei governi su problemi comuni e accoglie con speranza le parole del presidente americano Donald Trump, che giovedìa Varsavia ha rinnovato il suo impegno verso gli alleati transatlantici. "Da molto tempo aspettavamo di ascoltare queste parole da parte del presidente Tump – ha ammesso il presidente del Consiglio europeo- ma la domanda che sorge è se si tratti di un caso o di una nuova politica".
Tuttavia rimangono divergenze tra Washington e Bruxelles sulle importazioni di acciaio. Il presidente della Commissione europea, Jean-Claude Juncker, non intende cedere al protezionismo americano e minaccia: "Se gli Stati Uniti imporranno tariffe punitive sulle importazioni di acciaio, l'Unione europea è pronta a reagire in modo immediato e adeguato".
.JunckerEU</a> at first <a href="https://twitter.com/hashtag/G20?src=hash">#G20</a> working session on global <a href="https://twitter.com/hashtag/growth?src=hash">#growth</a> and <a href="https://twitter.com/hashtag/trade?src=hash">#trade</a>: with the wind in our sails against <a href="https://twitter.com/hashtag/protectionism?src=hash">#protectionism</a>. <a href="https://t.co/tfLR6SHh9R">pic.twitter.com/tfLR6SHh9R</a></p>— Mina Andreeva (Mina_Andreeva) 7 luglio 2017
La cancelliera tedesca Anglea Merkel, afitrione di questo vertice, ritiene necessari dei compromessi per trovare soluzioni comuni.