#NOTINMYNAME: I musulmani europei contro Isil
Commenti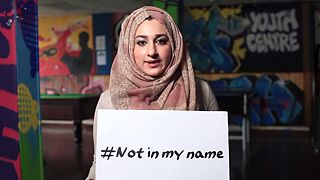 Cresce la protesta di chi in Europa dice basta uccidere nel nome della religione, basta uccidere nel nome dell'Islam. Venerdi' scorso scorso si è pregato in duemila moschee in Germania, a Milano domenica i giovani musulmani hanno organizzato una fiaccolata per condannare la violenza dello Stato Islamico dell'Iraq e del Levante. E contestando i simboli del Califfato hanno bruciato una bandiera dell'Isil.
Manifestazione comunità islamiche a #Milano bruciano bandiera che rappresenta #Isis. pic.twitter.com/9VBTIaRpFt

— Valentina David (@valedavid81) 21 Settembre 2014
Ma è sul web che la protesta si moltiplica con l'hashtag #NotInMyName utilizzando gli stessi media sfruttanti dai terroristi, via Youtube su Twitter.
A lanciare l'iniziativa è stata l'associazione britannica Active Change:
Have you seen the very moving video by @Active_Change_F? Please watch & share. http://t.co/WePItJj0kk#NotInMyName

— Beth Richardson (@B_RichardsonFA) 23 Settembre 2014
e da Londra la campagna ha fatto il giro del mondo, arrivando in Francia e in Australia.
#Daech :une véritable menace pour la #France! Un mélange d'électrons libres écervelés qui défendent une cause:La HAINE! #NotInMyName

— Sarra (@ssarraAt) 22 Settembre 2014
#Australia#Muslim s join #notinmyname movement against #IShttp://t.co/0G8MsWFP1J#auspol

— tracey withhope (@traceywithhope) 23 Settembre 2014
Una campagna che ha attirato l'attenzione del Vice-presidente del Parlamento Europeo David Sassoli che, proprio nel giorno in cui il Parlamento annuncia sette finalisti al Premio Sakharov per la libertà di pensiero, invita a sostenere i giovani musulmani che si battono contro il terrore.
Non lasciamo soli i giovani islamici che non vogliono la guerra e si oppongono all'IS #NotinMyName@Internazionalepic.twitter.com/QjFRBUTxIH

— David Sassoli (@DavidSassoli) 23 Settembre 2014