Un milione alla "Ski-track of Russia"
Commenti
Di euronews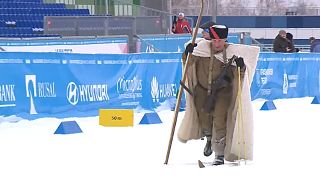 -
È una tradizione che ogni anno richiama sempre più appassionati, quella della "Ski-track of Russia". L'edizione 2020 ha registrato la partecipazione di più di un milione di atleti, che hanno scelto di misurarsi con una gara di fondo, disciplina che resta tra le più popolari nel paese.
Più che una gara si tratta di una festa: per iscriversi basta aver compiuto cinque anni, e tra gli innumerevoli concorrenti ce ne sono di provenienti dai cinque continenti. Ciascuno con un background diverso, ma uniti dall'intenzione di imporsi in una delle tre categorie: 3, 5 o 10 chilometri: per tanti lo scopo non è vincere, ma giungere al traguardo.