Brexit: la Bank of England reagisce alle critiche dell'Unione Europea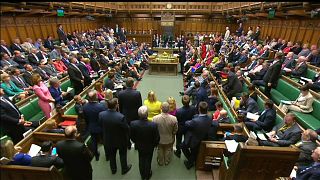 La Banca d'Inghilterra reagisce alle critiche rivolte dall'Unione Europea, affermando che le banche britanniche erano pienamente preparate a una Brexit a rilento e che è l'Unione stessa a dover agire per prevenire le problematiche dei mercati internazionali.
Il Governatore dell'istituto britannico, Mark Carney, contesta, infatti, quanto affermato dall'Autorità Bancaria Europea (EBA), secondo cui le banche non sono state preparate adeguatamente per una Brexit così dura.
Il sistema finanziario globale potrebbe subire conseguenze senza precedenti, a detta del Governatore.
MARK CARNEY, Governatore Bank of England, dice:
"Abbiamo trovato col Governo ciò che consideriamo una solida soluzione per quanto ci riguarda, potrebbero esserci soluzioni differenti sul fronte dell'Unione Europea".
MICHAEL HEWSON, analista:
"Sfortunatamente, penso che il Governo non abbia ancora raggiunto una strategia politica concordata e che le preoccupazioni della maggior parte della gente riguardino le discussioni del Governo in merito alla Brexit: speriamo di ottenere una certa chiarezza in proposito".