Draghi: "la Forward Guidance" ha funzionato
Commenti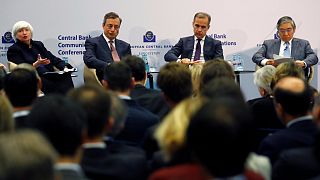 Un incontro a Francoforte per parlare di comunicazione delle Banche Centrali a cui hanno partecipato, oltre al numero uno della Bce Draghi, Janet Yellen Presidente della Fed, Kuroda il governatore della Banca del Giappone, e quello della Banca d'Inghilterra Carney.
Al centro del comfronto: la discussione sulle modalità di parlare ai mercati in modo da condizionarne i comportamenti. La "Forward Guidance", ovvero l'indicazione del percorso futuro dei tassi d'interesse della Bce in funzione dell'inflazione per Mario Draghi "è stata un successo" e ha funzionato.
Draghi, Yellen, Kuroda and Carney talk policy guidance. Here's what you need to know in less than 60 seconds https://t.co/7JSGFv07c9pic.twitter.com/eG0IAkvANX

— Bloomberg (@business) November 14, 2017
Il meccanismo introdotto nel luglio 2013 e nel 2015 esteso agli acquisti di titoli, è diventato un vero e proprio strumento di politca monetaria, ha detto Draghi contrariamente alle aspettative di molti.