Niente galera per il sergente disertore, l'ira di Trump
Commenti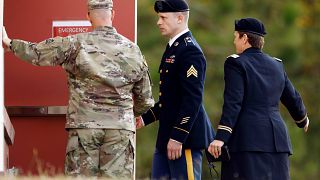 Il caso fa discutere gli Stati Uniti. La storia è quella di un soldato americano, Bowe Bergdahl , che nel 2009 disertò dalla sua base in Afghanistan e finì in mano ai talebani; poi il rilascio, il processo e ora la sentenza: multa e congedo con disonore.
The decision on Sergeant Bergdahl is a complete and total disgrace to our Country and to our Military.

— Donald J. Trump (@realDonaldTrump) 3 novembre 2017
Il presidente americano Donald Trump, che in precedenza per lui aveva auspicato la pena capitale, ha definito la decisione dei giudici un 'disonore' nazionale; Parole che hanno suscitato una reazione per le rime, quella dell'avvocato difensore Eugene Fidell: "Lo sforzo irrinunciabile del presidente Trump di alimentare un'atmosfera di linciaggio mentre ricopre l'ufficio più alto della nostra nazione, ha messo come una nube scura sul caso: ogni americano dovrebbe essere offeso dal suo attacco alla equa amministrazione della giustizia e dal suo disprezzo per i diritti costituzionali di base". Evidentemente i giudici hanno tenuto conto dei problemi mentali del sergente e del fatto che per 5 anni sia stato torturato dai talebani fino ad essere ridotto come mai più era accaduto a un prigioniero dai tempi del Vietnam, ha detto il medico che lo ha visitato. Per avere indietro il sergente gli Stati Uniti nel 2014, amministrazione Obama, rilasciarono cinque talebani detenuti a Guantanamo.