Chi è Sayfullo Saipov, il terrorista di Manhattan
Commenti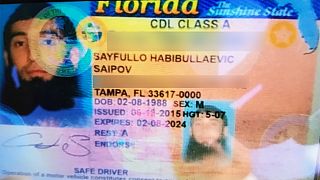 Cittadino Uzbeko, 29 enne, Sayfullo Saipov, il terrorista di Manhattan che ha ucciso 8 persone era residente in Florida, ma abitava da tempo nel New Jersey. Moglie e tre figli, era arrivato negl Stati Uniti nel 2010 e aveva la green card, l'autorizzazione alla residenza permanente. Abitava a A Paterson, al di là dell'Hudson,città con una delle più grandi comunità musulmane nell'area di New York. Poprio qui intorno alle due locali di martedì, aveva noleggiato il pick up killer. Autista Uber, il servizio di taxi privato, dal suo trasferimento nel New Jersey, era noto alle autorità per alcune trasgressioni stradali che in due casi hanno portato all'arresto . Frequentava la moschea locale, e non era molto conosciuto dalla comunità :
Viveva qui da tre mesi ha detto un residente e se chiedi in giro, nessuno lo conosce. Nessuno sarebbe in grado di riconoscere la sua faccia. Credo si tratti di una vicenda personale. Dei motivi personali l'hanno spinto a fare cosa ha fatto. E' qualcosa che non mi fa stare bene, perchè l'Islam non ci insegna ad uccidere le persone
What we know about Sayfullo Saipov, the suspect in the terrorist attack in Manhattan that killed 8 people on Tuesday https://t.co/Nz8pcSbRPQ

— The New York Times (@nytimes) 1 novembre 2017
L'uomo adesso è ricoverato in condizion gravi, ferito all'addome dai proiettili sparati da un agente di polizia subito dopo l'attacco. L'Fbi sta adesso ricostruendo il viaggio di Saipov dalla Florida a Manhattan e i suoi contatti con lo Stato Islamico.