Cina: 3 anni di carcere per chi offende l'inno nazionale
Commenti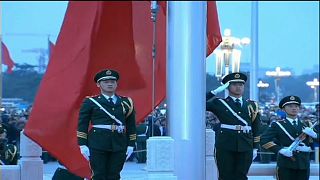 Denigrare l'inno nazionale, potrebbe diventare un reato. Accade in Cina dove il parlamento potrebbe già entro la settimana approvare una legge che punisce con tre anni di carcere chi l'offende o non lo rispetta, o ne modifica soltanto le parole.
China recently tightened rules that ban people from performing the national anthem at parties,weddings and funerals https://t.co/Mlo0qfG9Pj

—

AFP

news agency (@AFP) 31 ottobre 2017
Lo stesso vale per la bandiera nazionale, bruciarla o calpestarla comporterebbe, secondo la nuova direttiva, l'applicazione della stessa sanzione. A settembre era stata votata una legge che prevedeva una condanna a 15 giorni di detenzione estesa anche ai territori di Hong Kong e Macau. Nel 2015 alcuni tifosi di calcio ad Hong Kong hanno fischiato l'inno nazionale cinese, con tanto di sanzione da parte della Fifa.