Scenografia che cade, attacco di tosse e intervento comico: bad Day per Theresa May
Commenti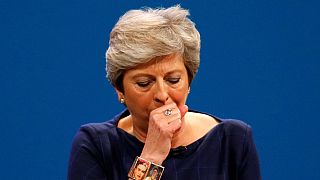 Brutta giornata quella del 4 ottobre per Theresa May, la prima ministra del Regno Unito impegnata a Manchester per la conferenza del Partito Conservatore. Il suo discorso verrà ricordato, nell'immaginario popolare, non tanto per i suoi contenuti quanto per la serie sfortunata di eventi che l'ha contraddistinto.
In agenda c'erano una serie di temi chiave per la sua leadership e per il paese, ma la sfortuna non le ha dato pace. Si è materializzata in primis con le fattezze del comico Lee Nelson, di cui si ricorderanno gli scherzi al presidente Donald Trump (le palle da golf con la svastica) e all'ex presidente Fifa, Sepp Blatter (i dollari lanciati in conferenza stampa). Nelson ha interrotto May porgendole un modulo P45, che nel Regno Unito si riceve al termine del rapporto di lavoro. Ha accompagnato il gesto con il grido: "Boris (Johnson) mi ha chiesto di dartelo", mentre veniva portato via dalla sicurezza.
NEW: We found what we assume is the P45 the prankster tried to hand to PM during her speech. #cpc17pic.twitter.com/QeB64wxRkT

— Paul Brand (@PaulBrandITV) October 4, 2017
Poi è arrivata la tosse. Un attacco violento che si è protratto per un po', costringendola a bere un po' d'acqua. Un incidente che la PM ha preso con sportività tutta anglosassone.
coughspic.twitter.com/1b6CoW5Mrz

— Theresa May (@theresa_may) 4 octobre 2017
La sfortuna non si è fermata qui. Durante il suo discorso, alcune lettere della scritta sul muro dietro di lei, "Building a country that works for everyone" (Costruiamo un paese che funzioni per tutti") si sono staccate cadendo al suolo. Ciò che è rimasto era appena leggibile.
Come dicono i sudditi di sua Maestà, a bad day for May. Indeed.