Il "Re" è vivo. Elvis Presley è ancora con noi?
Commenti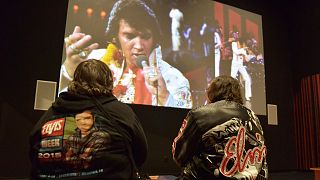 "Elvis Left The Building". Era il 16 agosto 1977 quando fu annunciata la morte del "Re del Rock'n'Roll". Elvis Aaron Presley aveva 42 anni. Fu trovato a terra, nel bagno di Graceland, la sua reggia di Memphis. Da quel giorno milioni di fans in tutto il mondo transitano davanti alla sua tomba, e alla sua residenza. Portano fiori, candele, messaggi, per una leggenda che continua a brillare. Ogni anno a Graceland transitano circa 500.000 visitatori, e quest'anno, per il quarantennale della scomparsa di Elvis, se prevedono fra i 30.000 e i 50.000, soltanto in questi giorni di mezza estate. Tra palco e realtà, c'è anche chi non ha gradito di dover pagare il biglietto da 30 dollari per visitare la tomba.
"I said see, see, see rider. Oh, see what you have done." Coach</a>'s countdown continues with "See See Rider": <a href="https://t.co/VHNSLVRV8a">https://t.co/VHNSLVRV8a</a> <a href="https://twitter.com/hashtag/Elvis?src=hash">#Elvis</a> <a href="https://t.co/tMUqdvtFPO">pic.twitter.com/tMUqdvtFPO</a></p>— Elvis Presley (ElvisPresley) February 15, 2017
"Some people like to rock, some people like to roll, but movin' and a groovin' gonna satisfy my soul." #TuesdayTunespic.twitter.com/xyf7FMIQNN

— Elvis Presley (@ElvisPresley) January 24, 2017
Polemiche a parte, c'è chi ritiene che "The King":http://www.ondarock.it/speciali/presley_bianchi.htm sia ancora vivo tra misteri e leggende metropolitane che hanno accompagnato questi quattro decenni. L'edizione latinoamericana di Rolling Stone tempo fa scrisse che Elvis Presley non è mai deceduto per un arresto cardiaco, ma risiederebbe in Argentina sotto copertura. CIA e FBI lo aiutarono a fuggire dalla quella gabbia dorata che il successo mondiale gli aveva costruito attorno. E così si continua a ripetere, fans e non, che Elvis è vivo e che è semplicemente scappato dai riflettori. Tra le tante teorie c'è, perfino, quella che lo vedrebbe coinvolto nell'omicidio di John Fitzgerald Kennedy. Tanti i misteri, veri o falsi. Sul primo certificato di morte, sparito e sostituito con un altro, datato due mesi dopo, il peso di Elvis non corrisponde a quello degli ultimi giorni di vita. C'è chi sostiene che esisterebbero due bare. La prima non arrivava ai 90 chili. Impossibile visti che, al momento della morte, Elvis pesava 158. E poi la firma sul certificato di morte appartiene alla stessa mano che per anni ha autografato foto, scritto lettere, mandato inviti, siglato documenti ufficiali. L'autopsia fu resa pubblica solo dopo dieci anni. Fino all'ultimo mistero: una foto, scattata il giorno delle esequie, che ritrae un uomo che sembrerebbe Elvis mascherato.
Elvis Presley would have turned 82 today. Look back at his 10 most unforgettable broadcasts https://t.co/vUq1VHtdWTpic.twitter.com/66XlABDWUD

— Rolling Stone (@RollingStone) January 8, 2017
40 Years Ago: #Elvis rang in the new year with fans in concert in Pittsburgh, Pennsylvania. #NewYearsEvepic.twitter.com/z2z3uBIXji

— Elvis Presley (@ElvisPresley) January 1, 2017
Verità o immaginazione, Elvis è stato uno dei più importanti artisti del ventesimo secolo. Iniziò la sua carriera nel 1954, contaminando ritmi pop e country con sonorità gospel. In breve tempo raggiunge una fama mondiale. Oltre un miliardo di dischi venduti, fu candidato per ben 14 volte al Grammy Award, che gli verrà attribuito tre volte. Fu protagonista di trentatré film, celebri le sue apparizioni televisive e i suoi concerti dal vivo a Las Vegas. Elvis resta un'icona potentissima, grazie a lui il rock'n'roll ha travolto il mondo intero.
Nonostante un finale dai contorni bui e tristi, fatto di abuso di alcol e psicofarmaci, amori tormentati, e concerti improbabili, "The King" vivo o morto che sia, resta il "Re".
On This Day in 1956: #Elvis made his silver screen debut in #LoveMeTender. pic.twitter.com/ebAlE8YadG

— Elvis Presley (@ElvisPresley) November 15, 2016