Casa Bianca: guerra alle 'gole profonde'
Commenti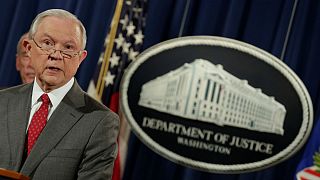 E' guerra senza quartiere alla Casa Bianca contro le fughe di informazioni, ritenute un attacco alla sicurezza nazionale.
Il ministro americano della Giustizia Jeff Sessions, in una conferenza stampa, venerdì, ha annunciato che il suo dipartimento ha piu' che triplicato il numero delle inchieste sulle fughe di notizie rispetto alla precedente amministrazione. "È importante per il popolo americano e per coloro che starebbero pensando a diffondere informazioni classificate sapere che i criminali che usano illegalmente il loro accesso ai nostri dati più sensibili e mettere in pericolo la nostra sicurezza nazionale saranno indagati e perseguiti"
After lengthy discussion today with AG Sessions, it is clearer than ever that realDonaldTrump</a>'s chief law enforcer will stop the leaks. <a href="https://t.co/0qV9o1TOIL">pic.twitter.com/0qV9o1TOIL</a></p>— Sebastian Gorka DrG (SebGorka) 5 août 2017
Quattro persone sono già finite sotto inchiesta. L'ultimo caso di fuga di notizie riguarda la trascrizione delle telefonate fra Trump e alcuni leader stranieri pubblicata dal Washington Post.
Sessions ha aggiunto che la stretta interesserà anche i giornalisti, che pubblicano informazioni sensibili, e le loro fonti all'interno dell'amministrazione.
With all due respect, Mr. President and Attorney General Sessions, it appears you can't handle the truth. https://t.co/HpR7fpv4bh

— Dan Rather (@DanRather) 5 août 2017