Sciopero generale in Cisgiordania e a Gaza, solidarietà con i detenuti palestinesi
Commenti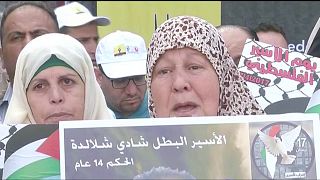 Negozi chiusi, trasporti fermi: in Cisgiordania uno sciopero generale esprime solidarietà nei confronti dei palestinesi detenuti nelle carceri israeliane che rifiutano il cibo per protesta.
Uno sciopero senza precedenti secondo l'unione dei commercianti Palestinesi, da Hebron a Ramallah. Nella città dove ha sede l'Autorità Palestinese, decine di persone si sono riunite su una delle piazze principali accanto alla tenda della solidarietà.
"Partecipo per mio figlio che ha smesso di mangiare e di bere", afferma la madre di un detenuto. "Chiedo al mondo intero di dimostrare solidarietà, non dovrebbe farlo soltanto Abu Mazen, ma tutto il mondo. Non aspettiamo le fazioni del governo, tutti noi dobbiamo protestare, le macchine devono fermarsi, tutto il mondo deve fermarsi".
Roads between Jerusalem and Ramallah closed because of general strike in support of hunger strike. Especially near refugee camps pic.twitter.com/ZQz65ji6X7

— Kaamil Ahmed (@KaamilAhmed) 27 avril 2017
Anche nella Striscia di Gaza, governata da Hamas, scuole non amministrate dall'Onu, banche e istituzioni pubbliche sono rimaste chiuse in segno di solidarietà con i 1500 detenuti, fra i quali Marwan Barghouthi, uno dei leader di Fatah, che dal 17 aprile ingeriscono soltanto acqua e sale.
#PHOTOS: #Protests for #Palestinian prisoners in #Israeli prisons | https://t.co/z8YTfUnn8Qpic.twitter.com/8stA6dOOUM

— Middle East Monitor (@MiddleEastMnt) 25 avril 2017
Solidarity w/ MargreteAuken</a> & EP Palestine Delegation f. 1500 Palestinian prisoners on hunger strike to demand basic <a href="https://twitter.com/hashtag/humanrights?src=hash">#humanrights</a> of Israel <a href="https://t.co/fpjcPSJUNo">pic.twitter.com/fpjcPSJUNo</a></p>&mdash; Keith Taylor MEP (GreenKeithMEP) 27 avril 2017