FMI e Banca Mondiale a Washington per far luce sull'incognita Trump
Commenti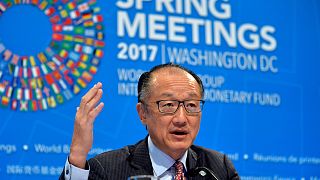 L'incognita Donald Trump in primo piano agli incontri di primavera di Banca Mondiale e Fondo Monetario Internazionale. All'ombra del nuovo inquilino della Casa Bianca – e degli interrogativi sollevati dalle sue politiche -, il tradizionale appuntamento al via questo venerdì a Washington fornirà anche l'occasione per un punto sull'evoluzione degli scenari economici.
L'economia va meglio (ma le incognite restano)
"Siamo confortati nel vedere più rosee prospettive economiche, dopo anni di crescita globale deludente – ha detto il presidente della Banca Mondiale, Jim Yong Kim -. Sussistono ancora dei rischi, ma i paesi che sono in condizione di farlo, devono proseguire con le riforme strutturali".
Il video integrale dell'intervento di Jim Yong Kim alla conferenza stampa di presentazione degli Incontri di primavera
L'
IMF

perplesso sul protezionismo dell'America First: "Il commercio motore della crescita mondiale"
There is room to improve on trade. IMF will contribute its part to make sure the engine of trade is not jeopardized -.@Lagarde#IMFMeetings

— IMF (@IMFNews) 20 avril 2017
A più riprese già data voce al suo scetticismo nei confronti delle politiche protezioniste annunciate dall'amministrazione Trump, l'FMI ha già ribadito l'importanza che riconosce al commercio ai fini della crescita globale.
"Il Fondo Monetario Internazionale non è un'organizzazione del commercio – ha detto il direttore generale Christine Lagarde -, ma il commercio è una questione che ci tocca da vicino. Si è rivelato uno dei principali motori della crescita e faremo quindi in modo di contribuire a questa dinamica, cercheremo di capire come continuare a sostenere questa crescita e come farlo nel modo più efficace, equo e globale che ci sia possibile".
Appena mercoledì, lo stesso IMF aveva pubblicato due studi, a cui affidava le sue perplessità sul potenziale impatto su crescita e rischi finanziari della riforma fiscale caldeggiata da Trump.