A Mosul è catastrofe umanitaria
Commenti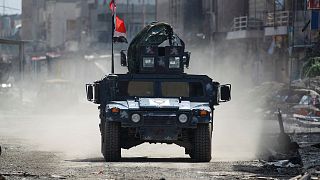 Colonne di fumo, scontri e vittime. A Mosul l'esercito iracheno si prepara per la battaglia finale contro l'Autoproclamato Stato islamico. Qui siamo nella zona a sud-ovest della roccaforte dove infuria la battaglia contro i jihadisti.
https://t.co/jL52kDrwWU#Video from the #AP of western #Mosul as #Iraqi#soldiers battle #ISIS. CJTCFOIR <a href="https://twitter.com/CENTCOM">CENTCOM FORSCOM</a> <a href="https://twitter.com/AP">APpic.twitter.com/VORZeRVivx

— Danger 6 (@Danger6_1ID) March 24, 2017
Combattimenti e raid che continuanano a fare vittime tra i civili, senza contare il numero dei profughi che aumenta drasticamente di giorno in giorno. Ormai è catastrofe umanitaria. Secondo l'Onu, dall'inizio dell'offensiva lanciata ad ottobre, oltre 350 mila civili soni riusciti a scampare alla morte, altri 600.000 sono ancora intrappolati nelle zone controllate dagli uomini del Califfato. "Una cosa simile non è mai accaduta in Iraq, racconta quest'uomo; è la prima volta che vediamo una scena simile. Forse da qualche parte nel mondo succedono cose simili. Stiamo seppellendo morti senza sosta."
Roughly 400,000 people are stuck in a state of panic in the old city in western #Mosul – we must be ready to receive them if they flee pic.twitter.com/QJLLOON2nR

— UN Refugee Agency (@Refugees) March 24, 2017
Intanto la lotta contro l'Isil prosegue anche in Siria. Qui i ribelli, appoggiati dalla coalizione a guida statunitense, stanno ormai avanzando verso Raqqa, altra roccaforte dei miliziani integralisti.
BREAKING
SDF fighters enter the eastern neighborhoods of Raqqahttps://t.co/rKEMgWjpI9#TwitterKurdspic.twitter.com/88LnnQOxCe

— Robin Ronî (@em_bernadin) March 24, 2017