Gb, il discorso di Theresa May in Parlamento dopo l'attentato
Commenti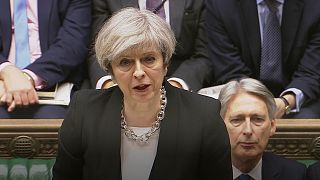 Già nel discorso di ieri davanti a Dowining Street , Theresa May aveva detto che i londinesi avrebbero ripreso la propria vita, nonostante un attentato destinato a seminare il terrore. Oggi il premier britannico l'ha ripetuto alla Camera dei Comuni. Nel luogo dove voleva irrompere la furia dell'aggresore è tornato il "business as usual", soprattutto dopo l'emergenza che l'ha blindato per diverse ore.
PM: We are not afraid. And our resolve will never waiver in the face of terrorism. https://t.co/bYB6NoyS2cpic.twitter.com/3uPbptMBpY

— UK Prime Minister (@Number10gov) 23 marzo 2017
"Al di fuori di queste mura, vediamo le stesse scene che si ripetono in molte città del paese. Milioni di persone che riprendono la propria vita", ha detto la May che ha continuato:" ed è in queste azioni, milioni di azioni di normalità, che troviamo la migliore risposta al terrorismo".
Dopo le parole del premier, è stato annunciato un minuto di raccoglimento anche dei deputati e dei Lord a Westminster. Alle 6 di questo pomeriggio, il sindaco Khan, ha organizzato una veglia a Trafalgar Square per ricordare le vittime.
Join us in Trafalgar Square at 6pm. We stand together against this attack on our democracy and our city. https://t.co/jCMhgyOB4O

— Mayor of London (@MayorofLondon) 23 marzo 2017