Usa, al via le manifestazioni contro Donald Trump in occasione del Mlk Day
Commenti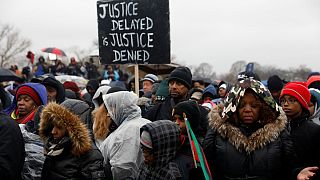 Migliaia di persone si sono riunite a Washington per una grande manifestazione organizzata ad una settimana dall'insediamento di Donald Trump alla Casa Bianca e in occasione del Martin Luther King Day che ricorre lunedì. La protesta è stata organizzata dal gruppo National Action Network, fondato dal reverendo Al Sharpton.
"Non siamo qui per appellarci a Donald Trump perchè ha già chiarito quali sono le sue politiche e chi sono i suoi consiglieri. Siamo qui per dire ai Democratici in Senato e alla Camera e ai Repubblicani moderati di avere un po' di spina dorsale! Abbiate fegato!"
Intanto John Lewis, amico personale di Martin Luther King, protagonista delle battaglie per i diritti civili negli anni '60 e deputato al Congresso, è diventato protagonista suo malgrado anche di una accesa polemica col presidente eletto. Lewis giorni fa aveva definito Trump "presidente illegittimo". A stretto giro di posta, via Twitter, è arrivata la risposta di Trump che ha invitato Lewis ad occuparsi el suo collegio elettorale invece di lamentarsi del risultato del voto.
Congressman John Lewis should spend more time on fixing and helping his district, which is in horrible shape and falling apart (not to……

— Donald J. Trump (@realDonaldTrump) 14 gennaio 2017
mention crime infested) rather than falsely complaining about the election results. All talk, talk, talk – no action or results. Sad!

— Donald J. Trump (@realDonaldTrump) 14 gennaio 2017
I cinguettii di Trump hanno scatenato sconcerto e ira bipartisan, specie nel weekend delle celebrazioni in onore di Martin Luther King. Sono una dozzina finora i parlamentari democratici che hanno annunciato che diserteranno la cerimonia dell'inauguration Day il 20 gennaio quando Trump si insedierà alla Casa Bianca.