Turchia, attentato alla discoteca di Istanbul: è caccia all'uomo
Commenti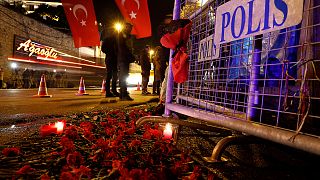 Sono 39 le vittime dell'attentato alla discoteca Reina di Istanbul. Tra loro 25 stranieri, tutti giovani, che erano in quel locale per passare la serata di Capodanno.
39 people are now confirmed dead after an attack on a nightclub in Istanbul, and the suspect is still at large: https://t.co/J0vIvyUSzipic.twitter.com/WBQ3mN4slR

—

NBC

News (@NBCNews) 1 gennaio 2017
Il primo ministro turco, Yildirim, che si è recato all'ospedale di Istanbul per fare visita ai feriti (una sessantina di persone), ha reso noto che ancora non è chiara l'identità del responsabile dell'attacco. Questa la sua dichiarazione:
"Stanno emergendo diversi dettagli. La polizia e i servizi segreti stanno lavorando per raggiungere risultati concreti. Non ci lasceremo intimidire. Ma saremo noi a intimidire i terroristi. Continueremo a lottare contro il terrore".
Gli inquirenti turchi proseguono le indagini alla ricerca del responsabile. O dei responsabili: secondo la polizia infatti si tratterebbe di un solo uomo ma alcuni testimoni assicurano di aver visto diversi attentatori. Nella discoteca al momento dell'attacco c'era anche un gruppo di giovani italiani che sono riusciti a salvarsi gettandosi a terra.