Attentato di Istanbul: l'addio alle vittime turche
Commenti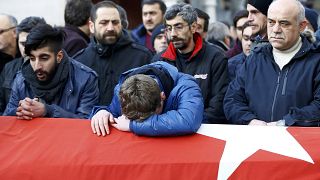 Ci sono anche 12 turchi fra le vittime dell'attentato di Istanbul: uno di essi è Burak Yildiz, un poliziotto di 22 anni, i cui funerali si sono svolti a Mersin, nel sud del Paese.
Pictures of the killed Police officer Burak Yildiz from Mersin whol patrolled the popular dance club #Reina in #Istanbul, #Turkey. pic.twitter.com/vMbFWzyLjQ

— Ali Özkök (@A_Ozkok) 1 janvier 2017
A Istanbul l'ultimo saluto a Fatih Çakmak, che la notte di Capodanno era in servizio al Reina come guardia di sicurezza. Il 10 dicembre Çakmak era sfuggito al duplice attacco all'esterno dello stadio del Besiktas, a pochi chilometri dal nightclub, dove ad agire furono militanti curdi.
Beşiktaş'taki saldırıdan kurtulan güvenlik amiri Fatih Çakmak Reina'da hayatını kaybetti https://t.co/GeM9riuTlrpic.twitter.com/IPL8sKEev9

— Al Jazeera Türk (@AJTurk) 1 janvier 2017
"Come è riuscito a entrare nonostante tutte le misure di intelligence e di sicurezza? – si chiede Mehmet Kocarslan, proprietario del Reina – posso soltanto definirlo un demonio, neppure un terrorista, non so come sia riuscito a introdursi nel club".
Mentre la polizia è ancora a caccia dell'aggressore, otto persone sono state arrestate per presunto coinvolgimento nell'attentato. L'attacco ha provocato anche una settantina di feriti. Salvi cinque italiani.