Carrie Fisher e Debbie Reynolds riposeranno vicine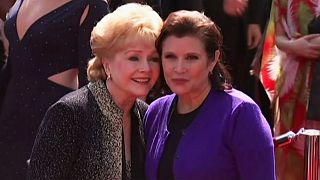 Riposeranno per sempre vicine. Madre e figlia. Debbie Reynolds e Carrie Fisher, morte a 24 ore di distanza, avranno un unico funerale e saranno sepolte insieme nella tomba di famiglia. Ad annunciarlo Todd Fisher, fratello di Carrie.
Debbie Reynolds and Carrie Fisher will have a joint funeral and be buried together https://t.co/p3GLZarbPhpic.twitter.com/d5SAUDFaBT

— Los Angeles Times (@latimes) December 31, 2016
Le due star di Hollywood saranno tumulate nel Forest Lawn-Hollywood Hills, il cimitero delle celebritá. La data del funerale non è stata ancora fissata, ma si tratterà di una cerimonia privata. Secondo alcuni rumors ci sarà anche una commemorazione pubblica, anche se al momento non ci sono ulteriori indicazioni a proposito
Debbie Reynolds, Carrie Fisher will have joint funeral and will be buried together, Fisher's son says. https://t.co/0ZWKtoltTw

— The Associated Press (@AP) December 31, 2016
Carrie, la principessa Leila di "Guerre Stellari", è morta a 60 anni martedì scorso, dopo essere stata colpita da un infarto in volo da Londra a Los Angeles. La madre Debbie, lanciata all'età di 19 anni da Singin' in the rain, una delle più grandi attrici dell'epoca d'oro di Hollywood, è scomparsa invece il giorno sucessivo, a 84 anni, colta da ictus. "Voglio stare solo con lei" sono state le sue ultime parole prima del grave malore. Troppo forte lo stress per la morte della figlia. Il rapporto tra le due celebri attrici non è stato dei più facili, ma si è andato ricostruendo nel corso del tempo, dopo tante incomprensioni.
Intanto i fan di tutto il mondo per ricordare Carrie Fisher hanno organizzato veglie di preghiera e flash mob in stile "Star Wars", con spade laser alzate al cielo. Ad Hollywood è stata ricordata dai con fiori e immagini della saga di George Lucas sugli schermi all'esterno di alcuni teatri.
Never forget.#Carrie#Fisherpic.twitter.com/Lp3JHNVLVW

— Brutally Honest K2SO (@HonestK2SO) December 30, 2016