Aleppo in balia dei bombardamenti. I bambini le principali vittime
Commenti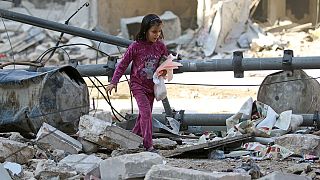 I bambini ancora vittime di bombardamenti indiscriminati su Aleppo.
A sinistra i bambini di un quartiere governativo a destra quelli di un quartiere in mano ai ribelli.
Ieri nel quartiere di al-Farqan, zona ovest della città, in mano alle forze governative, un bombardamento ha fatto almeno 8 morti tra i bambini della scuola Saria Hasoun, decine i feriti.
"I will not be able to describe the horror I am seeing." Eyewitness films aftermath of attack on hospital in Aleppo https://t.co/RiYRGtZKKw

—

CNN

(@CNN) November 21, 2016
A Aleppo, seconda città della Siria, si combatte la madre di tutte le battaglie in cui si gioca il futuro del Paese.
Le forze governative controllano i quartieri occidentali mentre i ribelli sono attestati nella parte orientale della città.
È qui che si trovano in stato d'assedio circa 250 mila persone; la ripresa dei bombardamenti martedì da parte russa governativa ha fatto oltre 100 morti di cui almeno 18, stando alla France press, erano bambini.
Premature babies pulled from incubators as Aleppo's only children's hospital is destroyed https://t.co/kNItZXv6Fgpic.twitter.com/sTSqdwCD8X

— Huffington Post UK (@HuffPostUK) November 21, 2016
I bombardamenti hanno messo fuori uso tutti gli ospedali da campo e le cliniche mobili della zona controllata dai ribelli. Ma non solo, chi non muore sotto le bombe, a Aleppo muore per denutrizione o follia. Viveri e beni di prima necessità scarseggiano e vi arrivano con estrema difficoltà.
"You can't imagine what it's like living in Aleppo right now. It feels like we are living in hell." https://t.co/ykmiRowrxQ

— The New York Times (@nytimes) November 21, 2016
L'emissario Onu, Staffan de Mistura ha lanciato l'allarme: il tempo per evitare una catastrofe a Aleppo è contato.
Queste immagini postate dall'Aleppo Media Centre parlano da sole, Medici senza frontiere ha dichiarato che 4 ospedali della parte orientale della città sono sttai direttamente colpiti, aggiungendo che si tratta della peggiore campagna di bombardamenti degli ultimi anni sulla città.
Una bomba ha ucciso un'intera famiglia.
"Un proiettile è giunto fino qui, l'odore del cloro si è espanso ovunque, portandosi via un'intera famiglia; abbiamo cercato di rianimarli ma non c'è stato niente da fare".
L'Osservatorio per i diritti dell'uomo non ha al momento confermato l'uso di armi chimiche, negato comunque da Damasco e contrario alla Convenzione sulle armi chimiche.
Shame on us all for not acting to stop the annihilation of eastern #Aleppo and its people and much of the rest of #Syria too

— Stephen O'Brien (@UNReliefChief) November 21, 2016