Elezioni Usa: Donald Trump, accolto dai fischi, vota a Manhattan
Commenti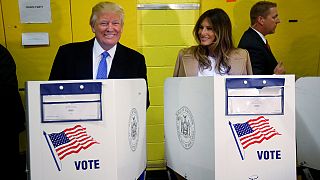 Tre ore dopo Hillary Clinton, Donald Trump ha espresso il proprio voto a New York. Poco prima era stato fischiato all'esterno del seggio in una scuola di Manhattan, non lontano dalla Trump Tower.
Donald Trump arrives to vote. Follow the latest #Electionday coverage: https://t.co/We4IPX7q6vhttps://t.co/MNETuQcf81

— Reuters Top News (@Reuters) 8 novembre 2016
"Tutto promette bene", ha detto il candidato repubblicano, accompagnato dalla moglie Melania, dalla figlia Ivanka e da un nipote. "Vedremo cosa succede", ha risposto, vago, Trump quando gli è stato chiesto se riconoscerà l'eventuale vittoria della Clinton.
Qualche ora prima, due donne erano state espulse dal seggio dalla polizia per aver protestato in topless contro le sue dichiarazioni maschiliste.
Trump, che ha invitato i seguaci all'Hotel Hilton Midtown di New York per attendere i risultati a partire da mezzanotte, punta a contraddire i sondaggi e a diventare il primo candidato senza esperienza politica a conquistare la Casa Bianca.
#FEMEN activists protest #Trump at the voting station shortly before his arrival " HATEOUT OF THEPOLLS!" #Election2016pic.twitter.com/R05d8FjT7L

—

FEMEN

(@FEMEN_Movement) 8 novembre 2016