Emmy Awards 2016: premiati fantasy e satira con Game of Thrones e Veep
Commenti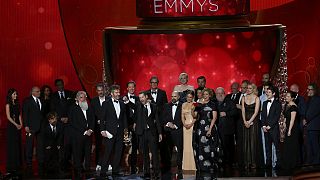 Serie Fantasy e satira continuano a dominare negli Emmy awards. Game of Thrones e la commedia Veep regalano un'altra doppietta al gigante HBO nella notte dei premi dedicati alle serie Tv.
I riconoscimenti del piccolo schermo fanno anche segnare il record di 21 gli attori di colore tra le nomination, nell'anno in cui sul palco degli Oscar sono stati premiati solo attori bianchi.
"Game of Thrones" conquista 12 premi su 23 nomination battendo "Mr. Robot" e "House of Cards". Sfide storiche della tv, ma anche prime volte: come il premio all'attore Rami Malek contro i veterani Kevin Spacey e Liev Schreiber.
Nessuna sorpresa per Julia Louis-Dreyfus. La sua Presidente inetta alla lotta per rimanere al potere conquista il suo quinto Emmy. Sul palco, la protagonista di Veep ha quasi chiesto scusa per quello che ha definito "il clima politico attuale":
"Veep ha abbattuto il muro tra la commedia e la politica – ha detto sul palco Julia Louis-Dreyfus – Il nostro programma era iniziato come satira politica, ma ora sembra sempre più un documentario".
La satira, quindi, protagonista con una donna alla Casa Bianca, nell'anno delle elezioni presidenziali.
Emmy Awards: le premiazioni https://t.co/EDfVXqzrD2

— la Repubblica (@repubblicait) September 19, 2016