Copa America, Colombia in semifinale. Peru' battuto ai rigori
Commenti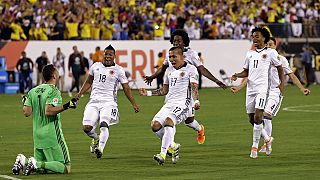 Dopo gli Stati Uniti, è la Colombia la seconda squadra qualificata per le semifinali di Copa America. 'Los Cafeteros' hanno battuto il Peru' per 4-2 ai calci di rigore, dopo che il match si era chiuso a reti inviolate. Poco spettacolo al MetLife Stadium, con una sola grande occasione per parte. Il palo colpito da James Rodriguez con un fantastico destro da fuori area al 22' del primo tempo e lo strepitoso salvataggio di Ospina, in pieno recupero, sul potente colpo di testa del peruviano Christian Ramos.
.FCFSeleccionCol</a> is advancing to the Semifinals of the <a href="https://twitter.com/hashtag/CopaAmerica?src=hash">#CopaAmerica</a> for the first time since 2004! <a href="https://twitter.com/hashtag/Copa100?src=hash">#Copa100</a> <a href="https://t.co/BQeEVUCJMU">pic.twitter.com/BQeEVUCJMU</a></p>&mdash; Copa América 2016 (CA2016) 18 giugno 2016
Una parata che ha mandato la partita ai rigori, non essendo previsti i supplementari in questa edizione della Copa del Centenario, tranne che per la finale. Dal dischetto, la Colombia è perfetta con Rodriguez, Cuadrado, Moreno e Perez, mentre il Peru' sbaglia con Trauco, che si fa ipnotizzare da Ospina e con Cueva, che spara il pallone in curva. In semifinale la squadra di Pekerman se la vedrà con la vincente della sfida tra Messico e Cile.