Nba: Raptors distrutti, i Cavs vedono la Finale
Commenti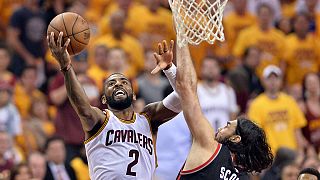 Dopo aver steccato a Toronto, i Cavaliers riprendono possesso della Finale della Eastern Conference, distruggendo 116-78 i Raptors in gara-5 e portandosi avanti nella serie per 3-2. Clamorosa la prova di forza di LeBron James e compagni, che già all'intervallo avevano messo un divario di 31 punti tra sè e gli ospiti, archiviando la pratica dopo appena un tempo.
LeBron BREAKS free for the SLAM! #NBAMotionhttps://t.co/9K90APxM14

—

NBA

(@NBA) 26 maggio 2016
Sugli scudi, un Kevin Love finalmente preciso, autore di 25 punti, ben coadiuvato dagli altri 'big' Irving e James, che hanno chiuso il match con 23 punti a testa.
Kevin Love's 25 on 8/10 shooting leads cavs</a> to <a href="https://twitter.com/hashtag/CAVSvRAPTORS?src=hash">#CAVSvRAPTORS</a> Game 5 victory <a href="https://t.co/22HIL40KNn">https://t.co/22HIL40KNn</a></p>&mdash; NBA (NBA) 26 maggio 2016
Disarmante la partita dei Raptors, come dimostra il terrificante 17% dalla lunga e la partita da appena 13 punti dell'All Star Kyle Lawry. La serie si sposta ora in Canada per gara-6: vincendo, i Cavs agguanterebbero la loro seconda Finals consecutiva dopo quella persa lo scorso anno contro i Warriors.