"Panama Papers": i ministri delle finanze del G5 contro l'evasione fiscale
Commenti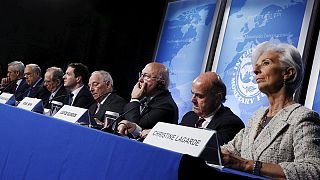 A Washington i ministri delle Finanze del G5 – Italia, Francia, Germania, Spagna e Regno Unito – fanno quadrato contro l'evasione fiscale, dopo lo scandalo
dei "Panama Papers". In una lettera indirizzata al G20 hanno invocato una "risposta globale", che includa lo scambio di informazioni sulle strutture societarie, per consentire di risalire ai loro beneficiari effettivi, e la definizione di nuovi standard internazionali.
"Servono azioni, non solo condanne", ha detto il cancelliere dello Scacchiere Osborne in una conferenza stampa congiunta con tutti i firmatari dell'appello. "Il Regno Unito lavorerà con i principali partner europei per scoprire chi possiede veramente queste società segrete per eludere il fisco e riciclare denaro frutto di attività illecite".
The UK & our European partners setting pace in improving #taxtransparency. No country can tackle tax evasion alone pic.twitter.com/mZA5g9HQNS

— George Osborne (@George_Osborne) April 14, 2016
Il Governo panamense, intanto, ha annunciato di volere aderire ufficialmente al programma di scambio automatico di informazioni sulla situazione fiscale dei non residenti. "Diamo il benevenuto a questa decisione che possiamo leggere come il lato positivo della vicenda. Sempre che Panama faccia fede alla parola data e applichi il programma nella sua interezza", ha commentato Angel Gurría, segretario generale dell'Organizzazione per la cooperazione e lo sviluppo economico (OCSE).
Statement from OECD Secretary-General Angel Gurría on the "#PanamaPapers" https://t.co/qXH9uF3Pe8#tax transparency pic.twitter.com/6oWaqZBhpK

—

OECD

(@OECD) April 5, 2016
L'obiettivo è realizzare il database della finanza globale promosso da G20 e OCSE con lo scambio automatico di informazioni con cadenza annuale dal 2017. Una risposta allo scandalo esploso con la circolazione di 11,5 milioni di documenti dallo studio legale panamese Mossack Fonseca, che ha travolto l'establishment mondiale.